Taz L. Gonzales:


Czone Pictures:
(Click to Enlarge)

Taz L. Gonzales: Taz L. Gonzales100: Toucheographic Hiney(Old Trade Account):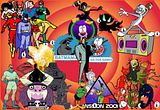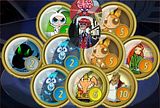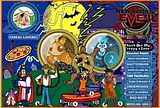 Career Highlights:
Recently, a few of my accounts have been deleted. Toucheographic Hiney was my first trade account, and it was the first to go I don't even remember how long ago. Then, more recently, Taz L. Gonzales[and 100] were deleted. Luckily, I still have saved a bunch of old screenshots of my Taz L. Gonzales czone over time. Here they are...
Finished Super Friends- my first major ctoon set, and a huge accomplishment for me. Probably still my favorite set to this day, although it's gotten much more common to see people collecting it.


Justice League Finished, along with other sets before that. I'll have a full list of finished sets at the end of this.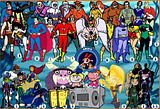 Had JL, had SF, took the next logical step. I like this czone. I wish I would've made it with more after new ctoons came out.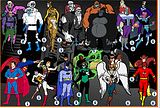 Full-on JL themed.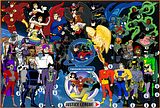 Green lantern is awesome. There are lots of Green Lantern-esque toons. 'Nuff said.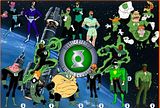 I am rather fond of the Duck Dodgers set. Not to mention, I liked to show off the old school DD ctoon. So sue me.


From when I got Cinderblock, good times.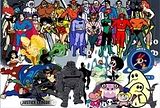 So I finished Titans, and decided I wanted Batmania. Saved up for a while, and ...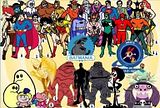 ...the next logical step was to finish Batman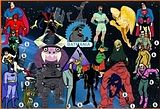 Another one quite similar to the one above. I don't know exactly what's different, but I could if I compared them. I'll leave it to you.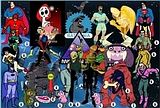 Courage Rules. It was the last set I finished, if memory serves.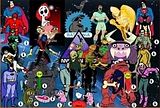 Won a few bluebacks in a raffle :) Good times.


Ga-Ga for games and Creepiest Czone Award?!?! EXCELLENT. Got 'em thanks to help from friends.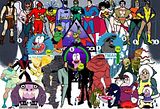 Just a new setup, with a few new toons added. I liked this one.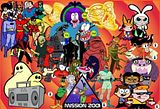 Got Football Bugs, so the czone needed a slight redoing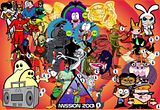 Finally, here's the last czone screenie I have.
Cue the dramatic music. Oh, memories.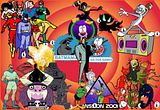 List of completed sets(from memory- listed sets include all editions):
Super Friends
Courage(+CCA and GaGa for Games)
Batman(+Batmania)
Teen Titans
Duck Dodgers(+ old Duck Dodgers and Cadet ctoons, as well as Duck Dodgers Mission Badge)
Justice League
The Grim Adventures of Billy&Mandy
Gtoons
Herculoids
X-Men: Evolution
He-Man(later traded away)

HiHi Puffy Amiyumi(later traded away)
I had all of those sets until they were deleted, with the exception of He-Man. I did trade away Boombox at one point, but I believe I did have one as well as the rest of the Puffy Amiyumi set when my stuff was deleted.