Taco:


Czone Pictures:
(Click to Enlarge)

Jake Slag Bean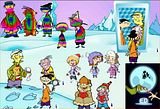 Czone Videos:
(Click to Watch)
Jake Slag Bean's Czone 9/2/06

Career Highlights:
I'm collecting Ed's for future giveaways at my site.
You can see I have the medium rare ones although not the best. I was cracked so I don't have much in mind..